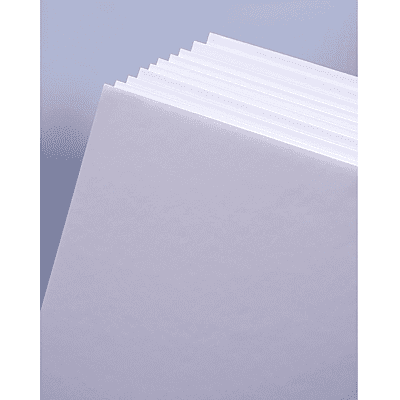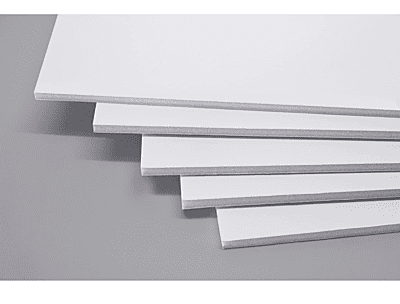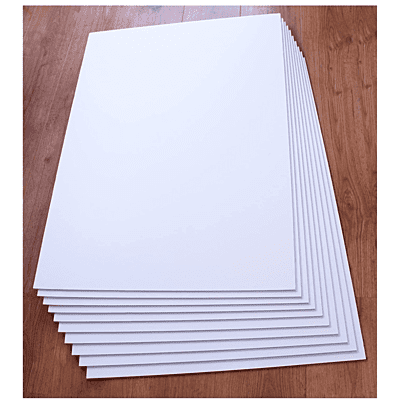 PVC Sheets (Forex) White Based 3mm 4' x 8'
PVC Sheets (Forex) White Based 3mm 4' x 8': PVC Sheets, also known as Forex sheets, are versatile building materials characterized by their white base and a thickness of 3mm. These sheets typically come in a standard size of 4 feet by 8 feet. They are widely used in various applications, including signage, advertising displays, and interior design. The white base provides an excellent surface for printing graphics and text, making them a popular choice for advertising purposes.
Forex Sheet: A Forex sheet, often referred to as a PVC foam sheet, is a lightweight and rigid material used in various industries. It is typically available in various thicknesses, including 2mm and 3mm, and can be used for applications such as signage, point-of-purchase displays, and exhibition booths. Forex sheets are known for their durability and versatility, making them a preferred choice for businesses seeking high-quality display materials.

Forex Sheet Price: The price of a Forex sheet can vary depending on factors such as thickness, size, and quality. Generally, thicker sheets and larger sizes tend to be more expensive. Pricing can also be influenced by market demand and supplier-specific factors. Customers often compare prices from different suppliers to find the best deal for their specific project needs.

PVC Forex Sheet: PVC Forex sheets are a type of foam board made from PVC (polyvinyl chloride). These sheets are known for their lightweight nature, durability, and ease of printing. They are commonly used in the advertising and signage industry due to their ability to hold high-quality graphics and text. PVC Forex sheets come in various thicknesses and can be easily cut and shaped to fit specific design requirements.

Forex Sheet Printing: Forex sheet printing refers to the process of applying graphics, images, or text onto Forex sheets. This is a common practice in the advertising and marketing industry to create visually appealing displays, signs, and promotional materials. The smooth, white surface of Forex sheets provides an ideal canvas for vibrant and high-resolution printing.

Forex Foam Board: Forex foam board is a lightweight, rigid material made from PVC foam. It is commonly used for applications where both strength and ease of handling are required. The foam core provides insulation properties, while the smooth, white surface allows for excellent printing and graphic display. Forex foam boards are often used for indoor signage, exhibitions, and presentations.

5mm Forex Sheet: A 5mm Forex sheet is a thicker variation of the standard Forex sheet. Its increased thickness provides added durability and stability, making it suitable for applications that require a sturdier material. This type of Forex sheet is often used in larger signs, display boards, and architectural model making.

3mm Forex Sheet: A 3mm Forex sheet is a standard thickness for Forex sheets. It offers a good balance between weight and rigidity, making it suitable for a wide range of applications, including indoor and outdoor signage, retail displays, and artistic projects.

Forex Sheet Suppliers in UAE: Forex sheet suppliers in the United Arab Emirates (UAE) are businesses that provide a variety of Forex sheet products to customers in the UAE market. These suppliers offer a range of thicknesses, sizes, and quality options to meet the diverse needs of industries such as advertising, construction, and interior design.

Forex Sheet Suppliers in Dubai: Forex sheet suppliers in Dubai cater to the local market by offering a selection of Forex sheet products. They serve businesses and individuals in Dubai and the surrounding areas, providing access to high-quality Forex sheets for a wide range of applications, from promotional materials to construction projects.